Having your electric bill automatically drafted from a bank account saves time and ensures that your payment is not late. Payments are drafted on the payment due date. To sign up for CHELCO's bank draft program, fill out the form on this page and submit to any of our area offices.
Set up your account portal and take control of your CHELCO account. The online portal is available when you need it and allows you to safely make payments from your computer using your checking account or credit card (additional fee required) or set up convenient automatic bank drafts. You can also update contact information; monitor your energy usage; report an outage; and, more.
CHELCO Connect mobile app makes access to your account easy whenever and wherever you need it! The app allows you to pay your bill using your checking account information or by credit card (with fee). You can also use the app to quickly check your energy usage; update your contact information; monitor or report an outage; and, more.
For iOS devices, download from the Apple Store.
For Android devices, download from Google Play.
For your convenience, CHELCO has kiosks available at four of our area offices: DeFuniak Springs, Freeport, Santa Rosa Beach and Bluewater Bay. Kiosks are available 24/7 and can accept cash, check, debit/credit card payments.
Debit/credit card payments incur an additional $3.00 processing fee.
Cash payments must be made in whole amounts. The kiosk cannot provide change. Any overage will be applied to the member's account as a credit. 
Accounts may be accessed with either an account number or its associated phone number. For security purposes, the last four digits of the member's social security number must also be supplied.
Here is a short instructional video on how to use our kiosk.
We have six area offices available during normal business hours to accept payments or provide you information on your account. 
If you prefer to make payment by phone, please call (850) 892-2111. Please note that debit/credit card payments will incur a $3.00 processing fee.
CHELCO is a not-for-profit cooperative and we are required to be good stewards of our members' investment and provide safe, reliable electricity at reasonable costs. Though our rates are reasonable, we have members who find themselves in difficult financial situations from time to time or occasionally find their electric bills too high to manage.
For those who anticipate having difficulty paying their bill, please contact CHELCO member services, (850) 892-2111, before the account comes past due. There may be a suitable payment plan or accommodation that can be arranged.
We also recommend those who need assistance to contact local agencies who may be able to provide a variety of aid. Please see their contact information below.
CHELCO members can also voluntarily contribute to a program that provides assistance to other members who need help paying their electric bill on a one-time basis. Members helping Members is administrated for CHELCO by the Walton Okaloosa Council on Aging. To get help, contact them at (850) 892-8165.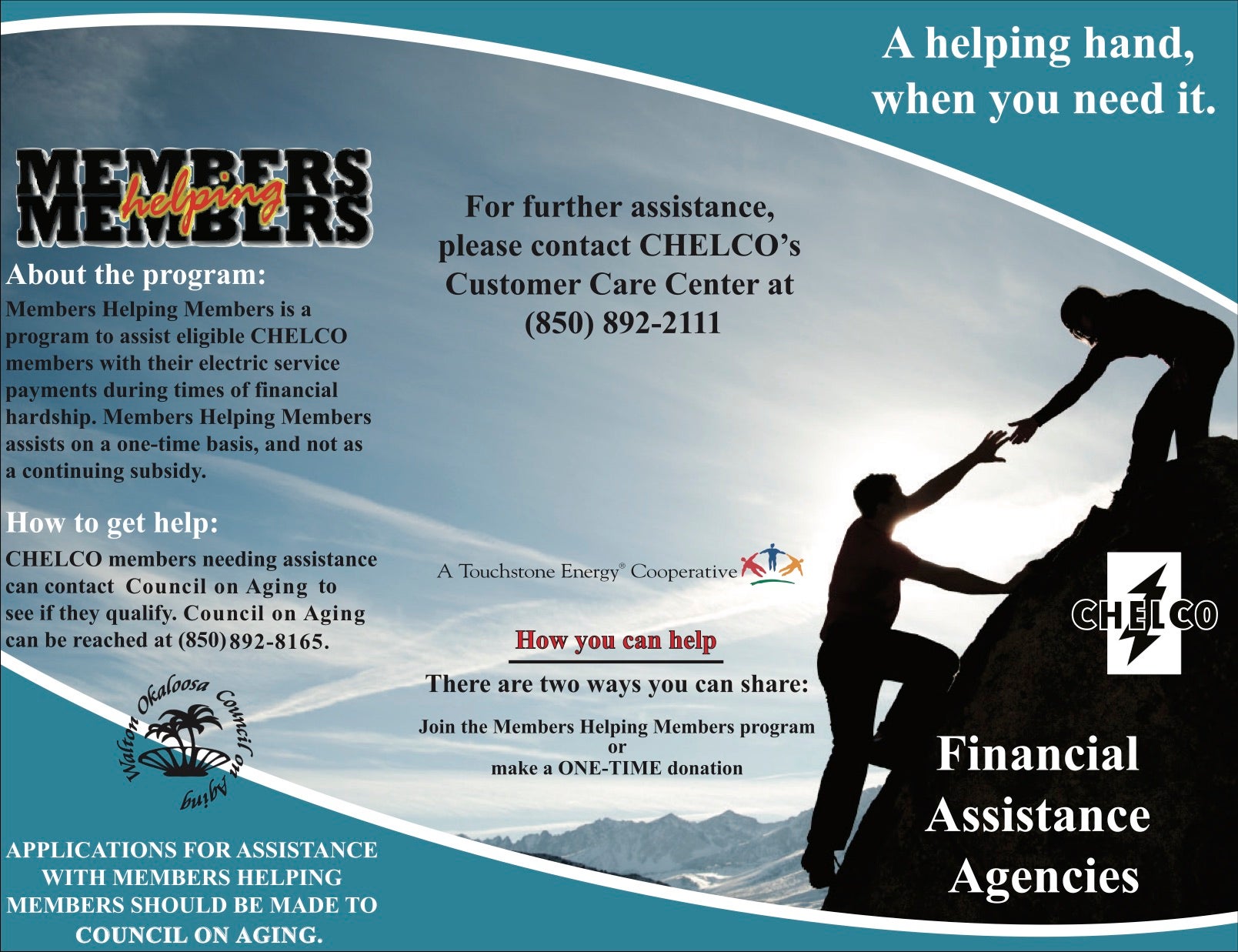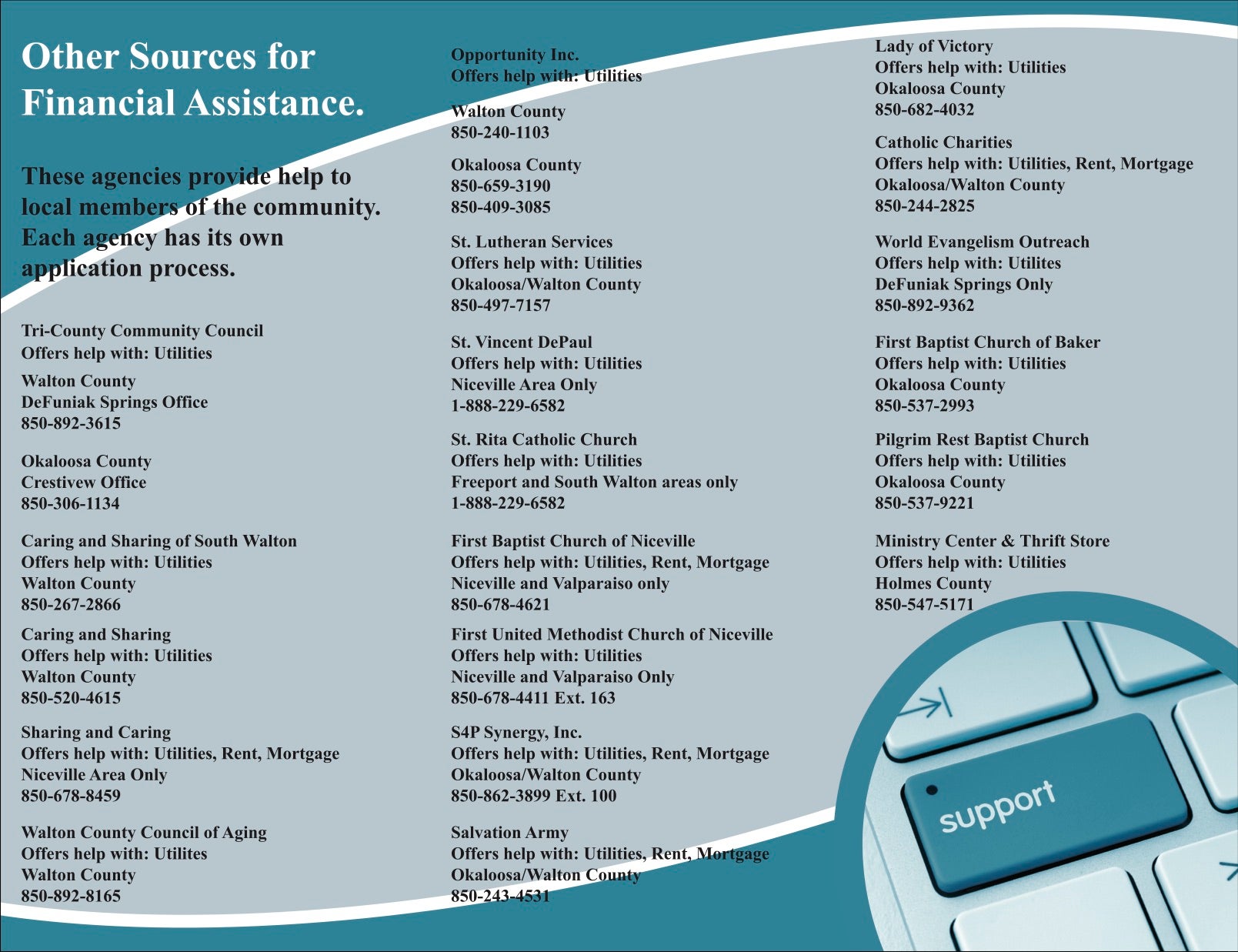 CHELCO uses a lock box service in Birmingham, Alabama, for mail-in payments. You can mail your payment to CHELCO, Dept. 3049, P.O. Box 11407, Birmingham, AL, 35246-3049. 
Each CHELCO office has a drop box located on the outside of the building. Available 24/7, you can come by at your convenience and drop your payment into the drop boxes at any office. 
Payment Options
We offer ways to pay that suit your needs. Whether you prefer worry-free auto draft payments; the convenience of paying online or by CHELCO Connect app; or, in person through our conveniently located kiosks, phone or area offices, we're here for you.
Change Bank Draft Information